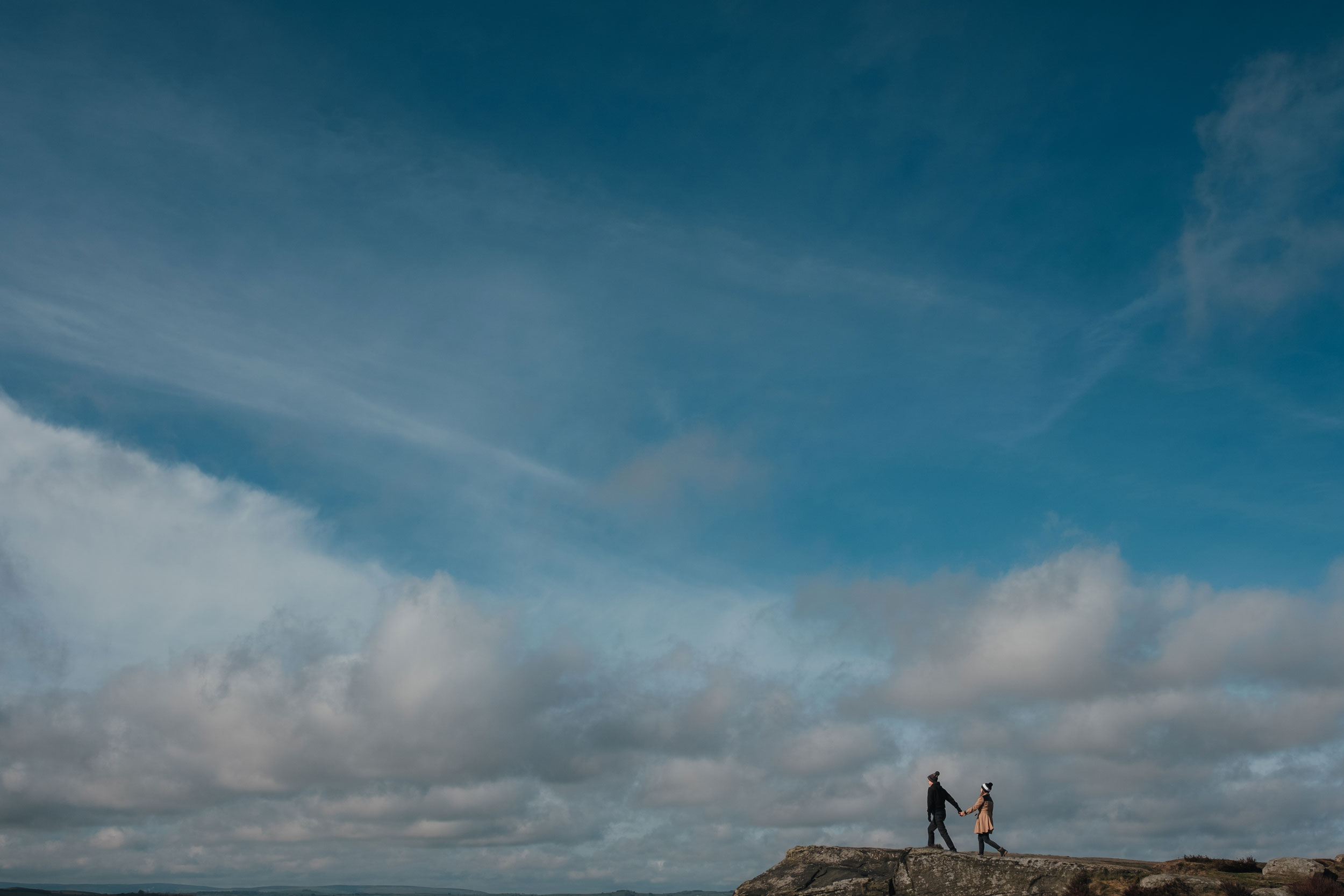 Let's run away, just
you and me
My Just Us Shoots are all about the two of you. They are a non-traditional version of an engagement shoot, with all the love and none of the cringe.
 I offer pre and post-wedding Just Us shoots and I'll explain why…
If you're thinking of booking me, you'll already be considering investing a reasonable amount in capturing a beautiful and unique wedding story. A pre-wed shoot comes highly recommended by myself and lots of my previous or existing clients (just take a look at my Testimonials page!).
I often watch as people's faces turn a little sour at the mention of this type of shoot, people often say they can't think of anything worse, that they worry it'll be awkward and cringey. As someone who ironically hates having her photo taken, I totally get it. 
However, just like at weddings, my approach to these shoots is natural, informal with a little creativity to capture the authentic story of you.
I genuinely believe that if you're going to invest in your wedding photographs, you should go the extra mile to have a sort of practice run. Not only will you feel considerably more relaxed in front of the camera on your wedding day and get some gorgeous photos, you'll also learn that I really do mean it when I say to just basically ignore me!
You may have noticed… I love the great outdoors and so it's music to my ears when clients ask me if we can head off somewhere a little wild and wonderful for their Just Us shoot. I strongly recommend heading somewhere rural and secluded but will send out a full guide with loads more information about choosing your Just-Us location.
 We'll probably go on a really cool walk; we'll chat and get to know each other, and we'll take some beautifully natural photographs. It's all about having some fun and capturing the connection between you, so the more you can mess about and make each other laugh, pull silly faces and sneak a quick kiss, the better!
These moments are what makes your relationship, and this is what I'm capturing.
Inspired by the incredible Gabe McClintock this is an opportunity to get out into the wild to take some more beautiful portraits of you in your wedding attire. This can be done at any point after your wedding and is ideal for couples who have a tight timeline on their wedding day or who want some additional photographs for the wedding album.
Unlike the traditional "Trash the Dress' shoot, my aim is not to trash anyone's dress but to take a collection of additional, stunning imagery of the two of you in an alternative location, preferably somewhere wild and wonderful. And yes, your dress may get a little trashed, but with photos to last forever and a frock you'll never wear again, who cares?
Becky Weir Photography1733
Becky Weir Photography1736
Becky Weir Photography1734
Becky Weir Photography1752
Becky Weir Photography1735
Becky Weir Photography1763
Becky Weir Photography1738
Becky Weir Photography1758
Becky Weir Photography1739
Becky Weir Photography1743
Becky Weir Photography1746
Becky Weir Photography1741
Becky Weir Photography1762
Becky Weir Photography1760
Becky Weir Photography1740
Becky Weir Photography1761
Becky Weir Photography1754
Becky Weir Photography1737
Becky Weir Photography1757
Becky Weir Photography1745
Becky Weir Photography1742
Becky Weir Photography1759
Becky Weir Photography1750
Becky Weir Photography1756
Becky Weir Photography1753
Becky Weir Photography1749
Becky Weir Photography1751
I'd love to hear more about your wedding and answer any questions you have before making the decision about whether I'm the right photographer for you.
Completing my contact form gives you instant access to full details of my packages and will allow me to check my availability and get back to you later on today.